I am a Lifestyle Dominatrix, returning to Pro Domming after a break. Over 10 years experience and a love for what I do.
I have a small but comfortable playroom with a range of furniture allowing play in most positions.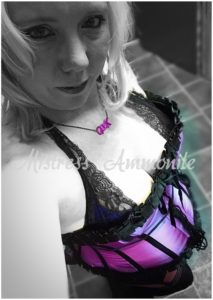 I class myself as a "Domme Next Door" because I am very much into natural play. I don't role-play or shout at you. I'm here to tie and tease you, spank and flog you, restrain you and titillate you.
I enjoy delivering a sensual experience with a range of equipment; hard and soft impact toys, bondage with cuffs, rope or plastic wrap, electrical play and needle play, CBT, nipple torture, strap-on play, plugging, and most other things you may be curious about. Please ask 🙂
I have a wide range of outfits in all colours and happily take requests, although any role-play outfits will entail a more "girlfriend" approach rather than realistic (i.e., my Nurse is fun and flirty, not a medical Matron)
I take same day bookings with an hours notice, but booking further in advance allows me to prepare a more tailor-made experience.
30 minute bookings do not allow enough time to explore your interest well, but I'm happy to do spanking, flogging, tie and tease in these sessions.